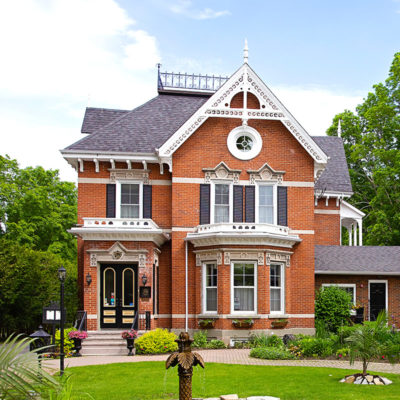 Designed by Architect Robert Gage and built for Charles Leopold Parmenter, construction on this stately mansion began in 1874 and was completed for occupancy in 1877. The home was originally named the Woodview Villa, due to the fact that the home was located on King's Highway #2 directly across from the old Machar's Woods. Upon completion in 1877, the majestic Woodview Villa was surrounded by lavish stonewalls, ornate wrought iron fencing and meticulously landscaped gardens and manicured lawns. The Prelude – In 1869 Charles Parmenter and another gentleman, Mr. Bulloch, joined forces in a manufacturing endeavor to produce wrenches and mops. The firm was called Parmenter & Bulloch and would be a pillar of industry within Gananoque (albeit under different company names) for more than 145 years until the firm known as Acument Global Technologies closed in 2009. Parmenter & Bulloch continued to expand over the years and in 1884 they began the manufacture of tubular rivets. In 1889 Charles died at the young age of 43. After his death, the Parmenter & Bulloch company continued to grow, and later became the leading supplier of rivets and bolts in the building of American and Canadian WWI and WW2 aircrafts. Charles' wife, Maggie, kept Woodview Villa as her residence, however she later moved to Toronto to live with her parents. When Maggie died in the summer of 1902 at the age of 52, her body was brought back to Gananoque and buried along side her husband in the nearby Willowbank cemetery. In 1903, Thomas Dempster was reported to have paid $3,500 for "the residence and grounds on King Street". Mr. Dempster also purchased from Mrs. Paramenter's estate the five lots in the rear, fronting on First Street, for another $1000. The Woodview Villa remained a private dwelling until April 1946 when it was taken over by the partnership of Daniel P. Delaney and William F. Koepke who began running it as an Inn. Subsequently, Mr. Delaney and his wife took full ownership and added the Garden Suites in the early 1950's. Shortly after, the Inn and Restaurant were given the name ' The Athlone Inn and Restaurant', which remained the name until closing in 2014. Today your hosts, John and Steve, give a nod to this grand lady's former history and glory by celebrating her original name. Welcome to The Woodview Inn.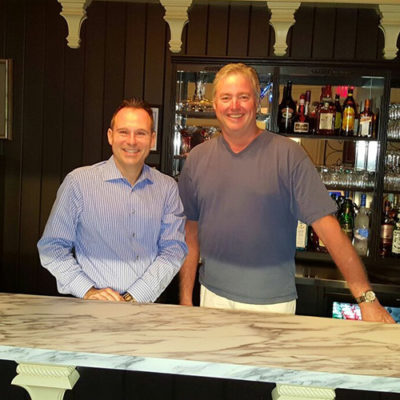 John was born and raised in Niagara Falls, Ontario, where he graduated from Niagara College's Hotel and Restaurant Hospitality Management program. In 1995, John moved to Toronto and after fifteen years in hospitality, left the industry to pursue a career in multimedia sales for such brands as Chatelaine, HELLO! Canada, Readers Digest and Air Canada Airlines. Steve was born in Toronto, and lived in Gormley, Ontario, a small town just north of Toronto. Steve returned to Toronto to study Interior Design at the Ontario College of Arts (OCAD). He later went on to successfully run his own Contracting and Interior Design business for more than 25 years. Steve's work has been featured several times in the Toronto Star (Home Décor section) and Style At Home magazine. John and Steve met each other in 2003 and felt an immediate connection. They continued to live and work in Toronto, always finding a retreat in their backyard – gardening and/or renovating something. In the fall of 2015 they decided to take a quick five-day road trip to Gananoque, Kingston and Prince Edward County, staying at Inns along the way. By the third day of their travels, they asked each other the 'life changing' question…"Do you think we would ever want to be Innkeepers?" Thirty minutes after getting home from their holiday, they found The Woodview Inn. John left his job and Steve closed his business. …and now the fun begins.
"This was a surprise birthday trip for my wife. The Woodview Inn is a beautifully restored property that clearly shows the dedication and personal touch of the "Inn Keepers" and staff. Fantastic and quiet location that is easy walking distance around Gananoque. Probably the cleanest hotel room we have ever stayed in. The onsite restaurant is excellent; fine dining that is reasonably priced. First stay there, but it won't be our last."
"The owners are fabulous and so accommodating. I truly felt like i was invited to stay in their home and loved it. The room was so high end, beautiful, incredibly comfortable and had everything you needed. The food was to die for i had lamb shank for dinner which was so succulent and flavourful. I felt so welcomed and happy there will definitely be back many times. A real Gem!!!"