Our goal is to create that special, personalized celebration that will reflect the unique styles and personalities that you wish to convey.  The Woodview Inn & Graydon's Restaurant can offer you:
The Inn offers a peaceful, private setting for formal events and meetings.  The spacious grounds provide turn-of-the-century charm and elegance of a bygone era.  Enjoy the lush uncovered and secluded patio June through September, with serene water fountains and flowering gardens. 
From mid-November to mid-January the Inn is dressed in her Christmas finery to set the stage for a memorable holiday season with festive celebrations.
John & Steve will meet with you initially to discuss your tastes, concepts, budgets and the ambiance you are seeking.  They are personally involved with you at every step and always available to answer questions.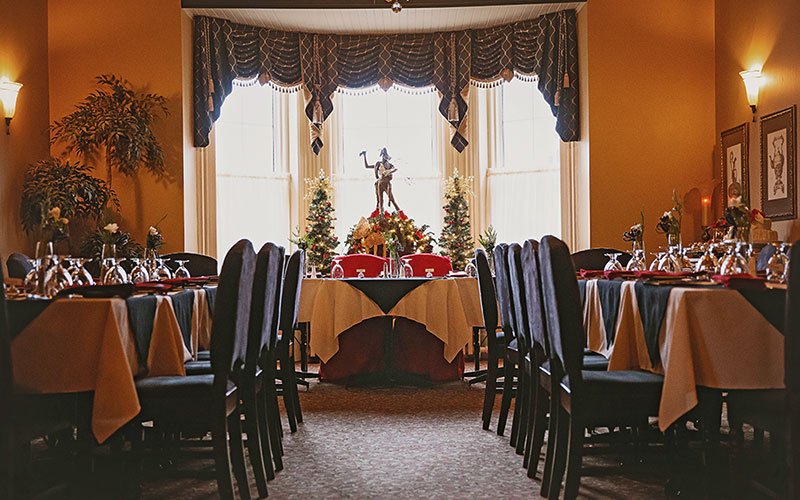 Celebrations can take place in the elegant mansion and/or in the lovely gardens, incorporating the warmth, charm and spontaneity of a Manor Soiree.
Our team is here to make your fantasy wedding or event become a reality. Our unmatched dedication, care and attention to detail allow you and your guests to relax and enjoy the magic of the day.
For weddings, our unique approach and range of services offers the convenience of hosting both the ceremony and the reception all in one stunning location. We have contacts to licensed Officiates, Florists, Cake Designers, Musicians and much more, which we are happy to share with you.
The Woodview Inn is your premiere "Any Occasion" venue. Build your memories in this beautiful historic estate, The Woodview Inn.
Please contact us to arrange a complimentary site visit & consultation.
"Our friends describe our wedding as something out of a Hallmark movie. The setting at The Woodview Inn was in a word; beautiful. We wanted a small elegant affair with our closest family and friends. The attention to detail that John and Steve provided made our Christmas wedding a night to remember, by all who attended. They made us feel so relaxed and so confident that everything would be perfect and they delivered. Our honeymoon suite was truly heavenly to come back to after the night's festivities came to an end. We would highly recommend the Woodview Inn for a special celebration."
"We celebrated our wedding in Gananoque. Our out of town guests, as well as ourselves, stayed at the Woodview Inn. The fine folks, John and Steve and their amazing staff, that run this incredible Inn will not disappoint you. They have reinvigorated the inns old charm through the renovation of this beautiful Victorian mansion. From day one, they welcomed us with open arms. Our room was gorgeous!!! Our wedding dinner menu... Beyond excellence!! We will be back without a doubt!!! John and Steve are now part of our family and we cannot wait to see you again!!!!!"
"So glad we chose The Woodview Inn for our special day; between the staff, the food, and the ambiance it made for a perfect day. Thank you!"
"The Woodview Inn was a perfect place for our wedding. It's stunning in the summertime and John and Steve, as well as their staff, could (literally) not have been more accommodating! And don't get us started on how amazing the food was! As much as we enjoyed our wedding day, we equally enjoyed getting to know them both. We look forward to continued visits in the future."